We just did! Now I have to admit, we got a super deal – there was a dog fair thingie nearby, and it cost a whopping $10 per dog to get them chipped! That is a fabulous deal – even our vet recommended we go there, because he had to charge more.
So we did, and I am super relieved. If they get lost, they are now FINDABLE. And it's supposed to last, like, forever. We'll see about that – but it'll be good for a long while, I bet.
I was going to post a new pic of Peter and Lois but can't find the ones I just took! So here's Peter – and Fluffy. New pic of the puppies soon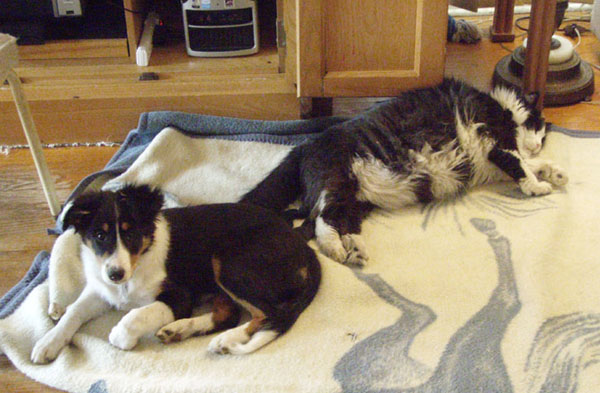 It was a really fun morning. Our other purpose was to see how well they socialized with other dogs (we already knew they were friendly to human people). They did GREAT. No growling, very little barking even, and they actually listened to us.
I wish we lived close to a dog park – I think they'd really enjoy it. We would too. Will have to make more opportunities for them to play with other puppies!