This is something I take for granted – I use (and wear) a lot of ball chains, the simple chains that are used in the military to hold dog tags – and out in the jewelry world, to also hold dog tag pendants. Plus a lot of other necklaces and pendants.
It's like a lot of things – it's not hard to do – once you know how. But if you aren't used to them, they're probably maddening! They don't have a typical clasp. Instead, they have a connector as shown in the sketch below.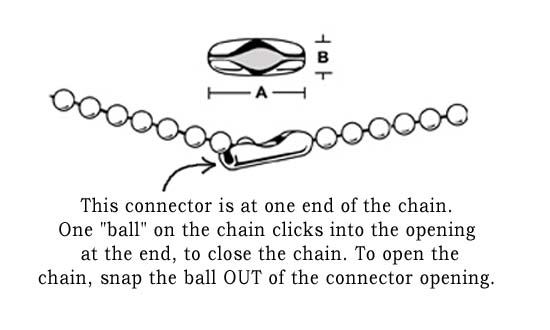 Each end of the ball chain has a simple "ball". That ball slips into the opening on the connector and presto, your chain is closed! To open the chain, simply snap the ball out of either side of the connector. It sounds complicated – it's not, really. Take hold of any ball chain and play with it. Twist the ball out of the opening, or snap it, or coax it any way you like. Once you try it, you'll see what I mean. Sometimes they're a little snug, and harder to open – but it'll work. Really.
And you'll always be able to open a ball chain from then on. Once you know how, you really know 🙂
And if you do need help, drop me a note – we'll figure it out!