I've started doing "pet photo jewelry" lately and people are so enthusiastic about their pets, furbabies, fuzzy kids, whatever you call them – I have a feeling these are going to be fun!
There's a twist though. I don't just use straight pixel-for-pixel photos (well I can, but that hasn't been the focus so far) – instead, I make a sort of portrait of your furbaby, and use that as the basis for the earrings (or pendant). For example, look at these sweet beagle earrings: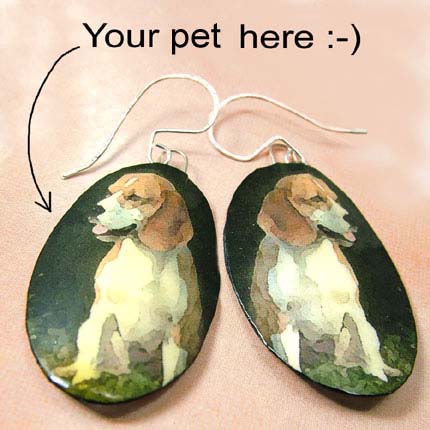 Custom Pet Photo Earrings or Pendant
These would be fun anyway, because this is a much-loved pet and her human really cares about these earrings – and the extra fun part is that, these aren't copied from an "exact" photo. At my customer's urging, I played with the photo a little, I changed it, stylized it, turned it into a mini-portrait. (Yes, I photoshopped it!)
I think it's going to be interesting to go down that road a little more 🙂
The earrings are a great conversation starter, if you're into that. And they're a great keepsake gift for someone you love (hmm, can we can "paper anniversary present"?) For someone who loves their pet!
PS I'm going to be putting up some new and different examples soon – stay tuned for further developments!