So, the first year anniversary is traditionally considered the "paper anniversary" – well, except in Great Britain where, I'm told, the paper anniversary is the second anniversary. Not sure why the diff there.
So I'm thinking most people go with the "paper anniversary" tradition. And all you first-year-marrieds out there? Have I got a gift suggestion for you 🙂
Guys – this is the perfect answer for your "what do I get for her, she loves jewelry, she loves flowers, yeah, and I'm supposed to do that paper thing" anniversary-present-that-I-need-to-order-TODAY problem.
Paper Jewels, of course. Even more specifically (if you're not sure what to get) – these gorgeous paper earrings: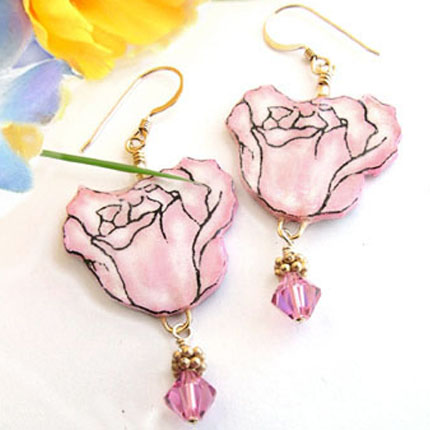 …
These flower earrings are very pretty, they're comfortable (I promise!), they're feminine and affordable and yeah, they're made with paper. So. You're getting her artist handmade paper earrings, that also feature Swarovski crystals (the finest in the world) and gold (okay, gold-filled earwires). She's going to love them.
And you, of course.